Prepare to embark on a culinary adventure as we delve into the world of delightful and innovative recipes that are sure to captivate your taste buds.
Today, I bring you a recipe that perfectly balances cool, crisp cucumbers with a fiery kick of spice. Get ready to awaken your senses with this spicy cucumber salad!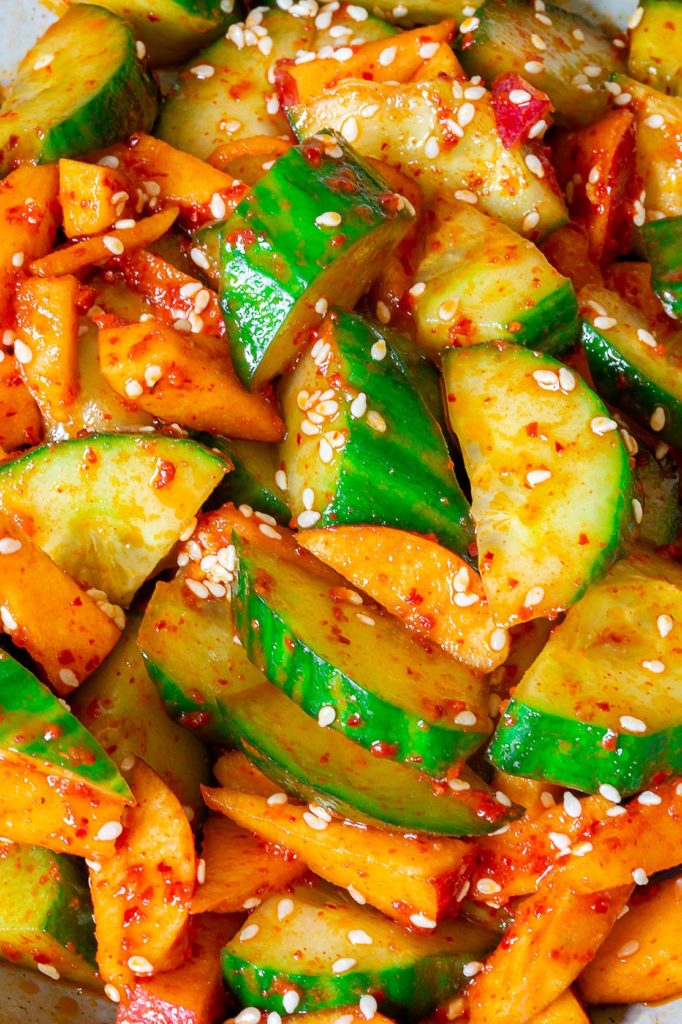 This recipe offers a unique twist to the classic cucumber salad, infusing it with a zesty blend of flavors that will have you reaching for seconds. Whether you're looking for a light lunch, a side dish for a barbecue, or a zingy accompaniment to your favorite main course, this Spicy Cucumber Salad is sure to impress.
In this post: Everything you need for making this spicy cucumber salad:

About the Korean chili powder:
Korean chili powder, known as gochugaru, is a vibrant and essential ingredient in Korean cuisine. Unlike other types of chili powder, Korean chili powder is known for its moderate heat level, making it accessible to a wide range of palates. Its mild spiciness allows the other flavors in a dish to shine through while adding a gentle kick. The flavor profile of gochugaru also exhibits a subtle smokiness, reminiscent of a slow-roasted pepper, which enhances the overall depth of dishes.
You can easily find gochugaru, the Korean chili powder, in most Korean grocery stores. It is commonly available in a range of coarseness levels, ranging from fine powder to flake-like textures.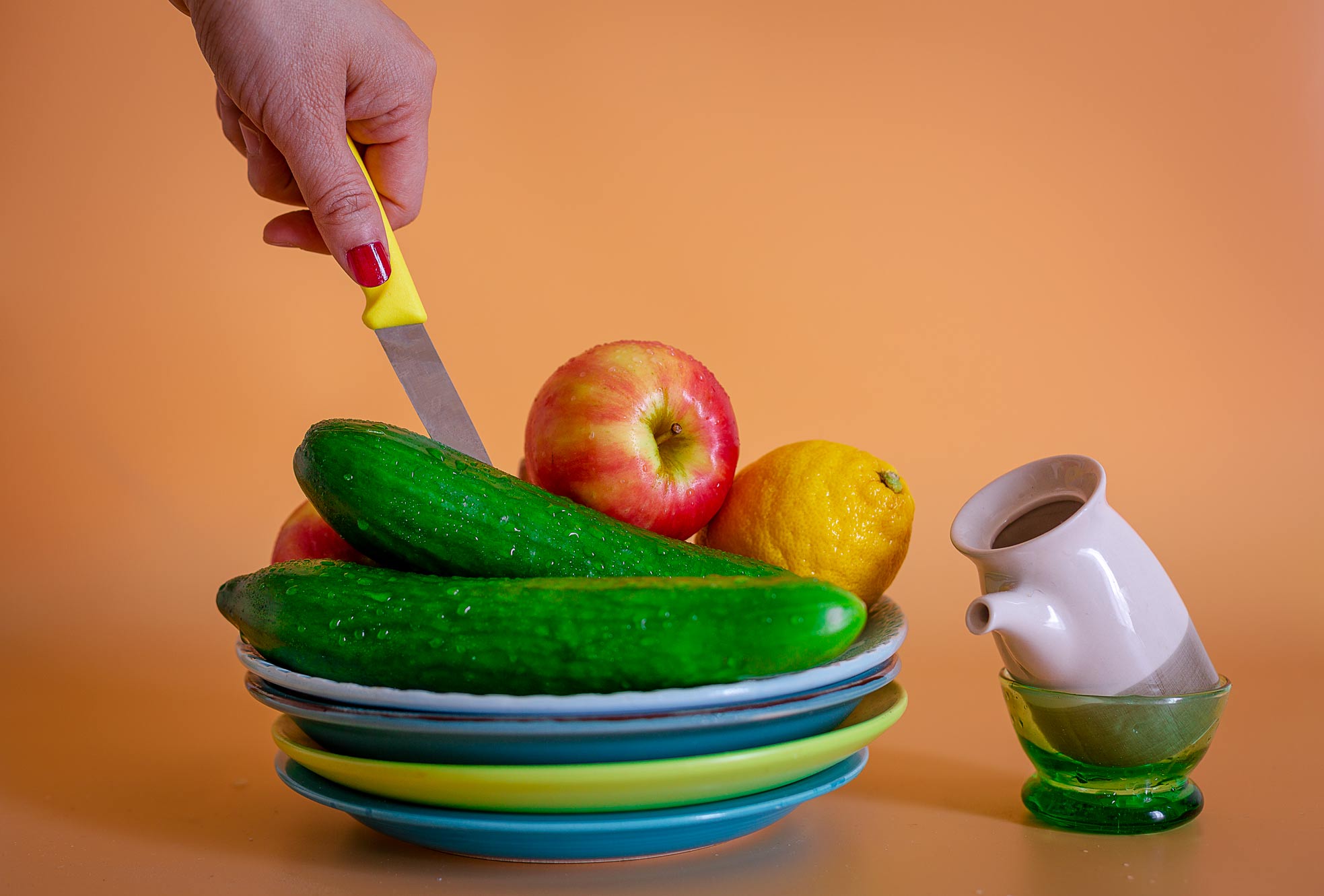 Ingredients for this spicy cucumber salad:
Cucumber: When it comes to using cucumbers in recipes, whether to keep the skin on or remove it is entirely up to your personal preference. Both options are viable.
Korean Chili Powder: The quantity of chili powder used in this recipe can be adjusted based on your tolerance for heat. You have the freedom to determine the desired level of spiciness, allowing you to tailor the dish to your individual preference.
Fish sauce: Fish sauce adds a delightful hint of seafood flavor to the dish, enhancing its taste profile. However, if fish sauce is not readily accessible, you can substitute it with an equally savory alternative, such as soy sauce.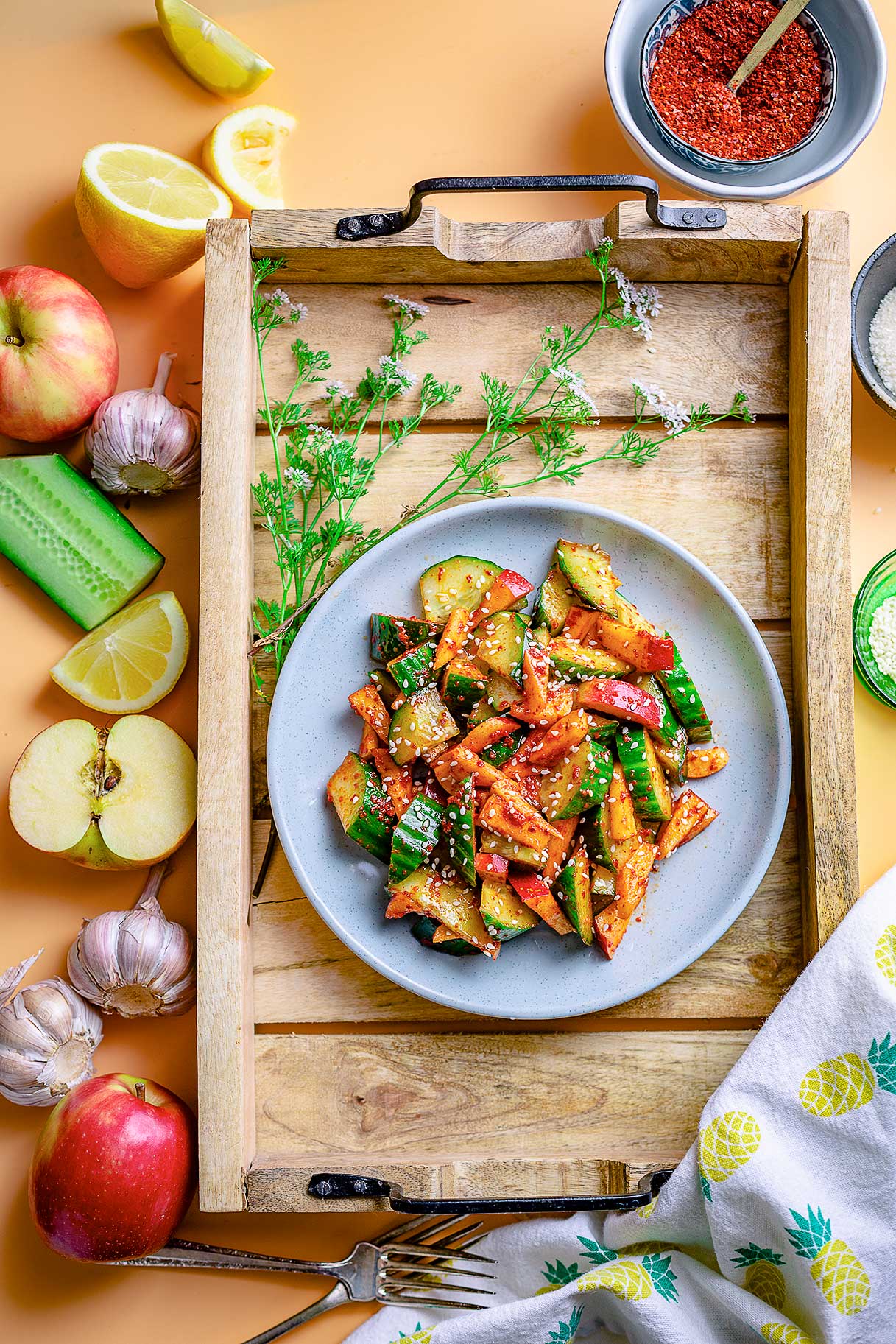 One of the remarkable aspects of this recipe is its versatility. The level of spiciness can be easily adjusted to suit your personal preferences, catering to both spice enthusiasts and those who prefer milder flavors. Moreover, this dish is a breeze to prepare, making it an ideal option for busy weeknights or impromptu gatherings.
FAQs:
Q: Can I use a different type of chili powder?
A: The Korean chili powder plays a significant role in the flavor profile of this Spicy Cucumber Salad. Its unique characteristics contribute to the overall taste experience. While other chili powders may have distinct flavors, they might not replicate the exact flavor profile of Korean chili powder.
However, if you don't have access to Korean chili powder and still want to try the recipe, you can certainly experiment with other chili powders, keeping in mind that the flavor may differ from the original intention of the dish.
Q: Can I add other vegetables to the salad?
A: Certainly! Feel free to get creative and customize the salad to your liking. You can add other vegetables like bell peppers, carrots, or radishes for additional crunch and flavor.
Q: Is this salad suitable for those with dietary restrictions?
A: The Spicy Cucumber Salad can be made suitable for various dietary restrictions. To make it vegan or vegetarian, use soy sauce instead of fish sauce. If you have specific dietary concerns or allergies, please check the ingredients used and make necessary substitutions or modifications as needed.
Other salad dishes to try:
Chinese cucumber salad. Easy and refreshing
Beef steak salad turns your favorite steak into a salad dish to share with your family
Chicken salad is Healthy and fast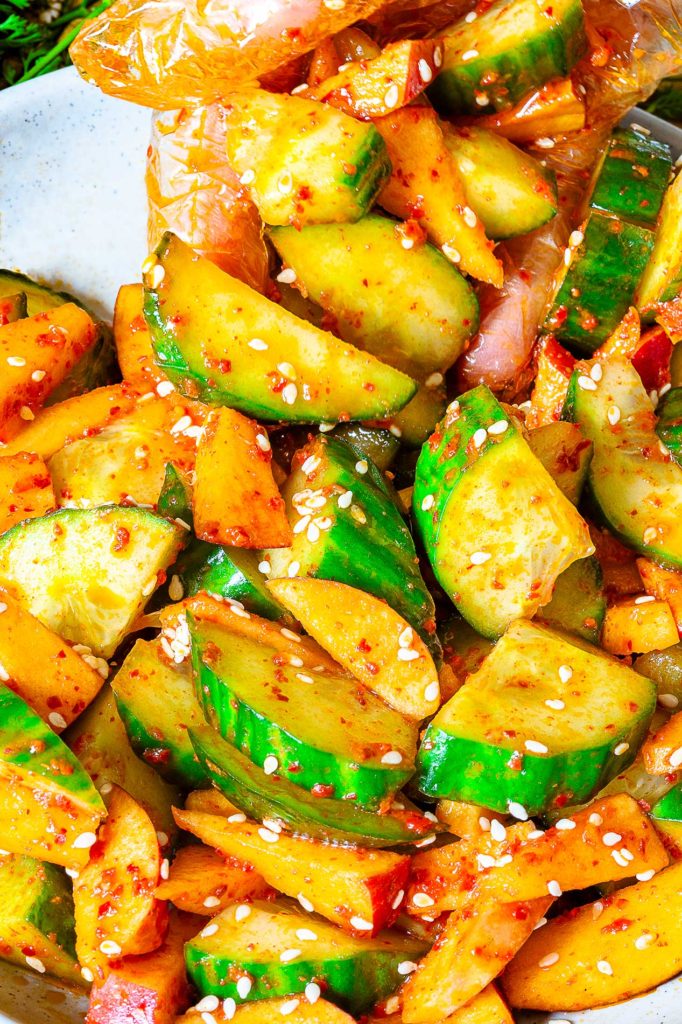 Do not let the striking hue of vibrant red chili powder deter you. Embrace the exciting flavors awaiting you by gathering the necessary ingredients and immersing yourself in this extraordinary dish!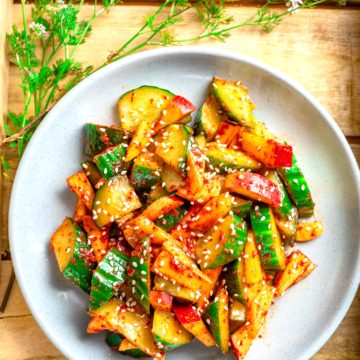 Simple spicy cucumber salad
This refreshing cucumber salad is crunchy, slightly sweet and tangy with a bit of heat and will kickstart your tastebuds.
Print
Pin
Rate
Ingredients
2

cup

sliced cucumber

1

cup

sliced apple

2

tablespoon

Korean chili powder

1

tablespoon

fresh garlic mince

1

tablespoon

fish sauce

1

tablespoon

lemon juice

1

teaspoon

sugar

1

tablespoon

sesame oil

1

tablespoon

toasted sesame seeds
Instructions
In a medium bowl, whisk together the chili powder, fish sauce, sugar, sesame oil, garlic mince and lemon juice.

Add the cucumber and apple slices to the bowl and toss to combine. Add the sesame seeds and serve.
Nutrition Information:
Calories:
218
kcal
Carbohydrates:
32
g
Protein:
4
g
Fat:
11
g
Saturated Fat:
2
g
Polyunsaturated Fat:
5
g
Monounsaturated Fat:
4
g
Sodium:
843
mg
Potassium:
566
mg
Fiber:
6
g
Sugar:
22
g
Vitamin A:
2529
IU
Vitamin C:
21
mg
Calcium:
121
mg
Iron:
3
mg
You might also like: