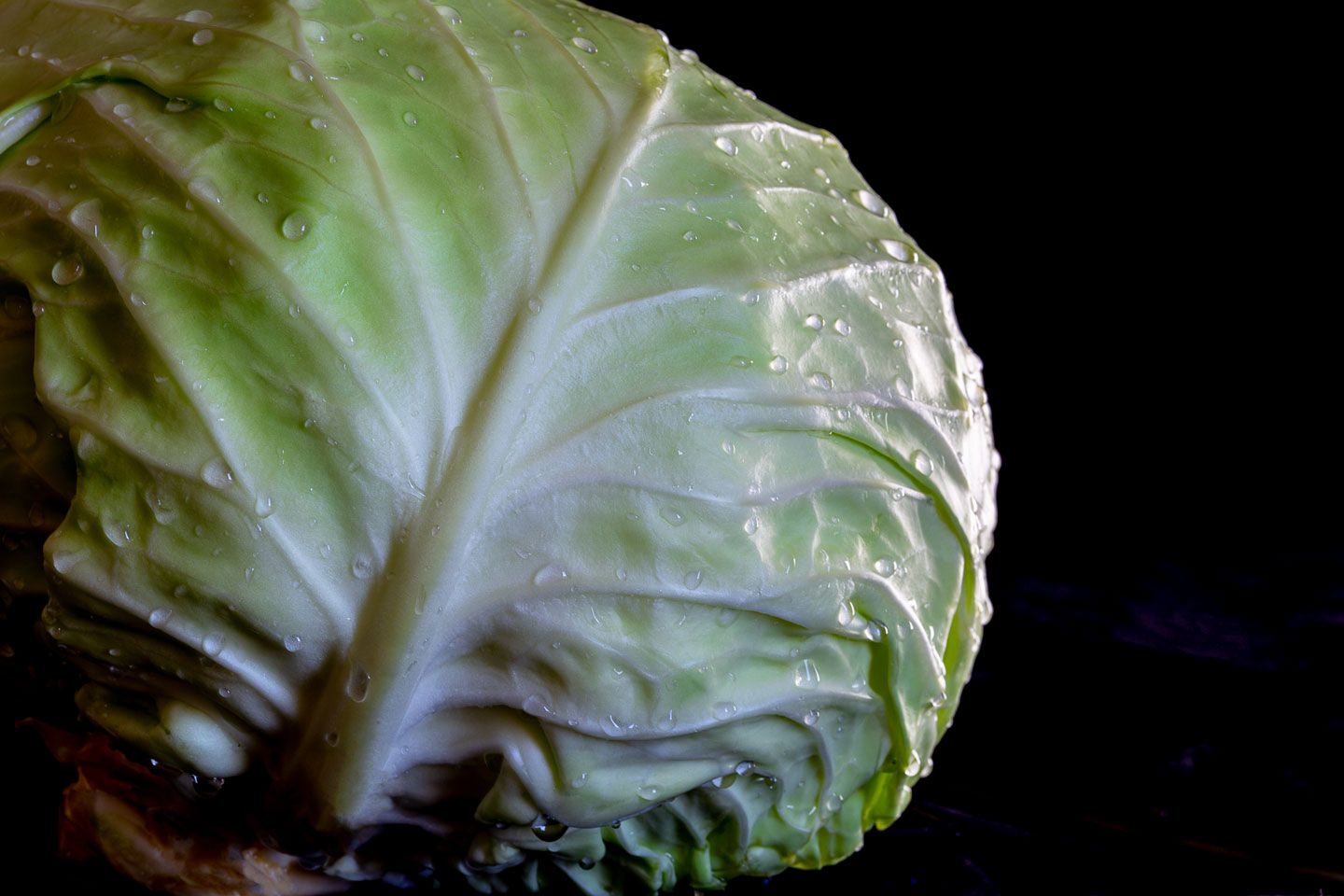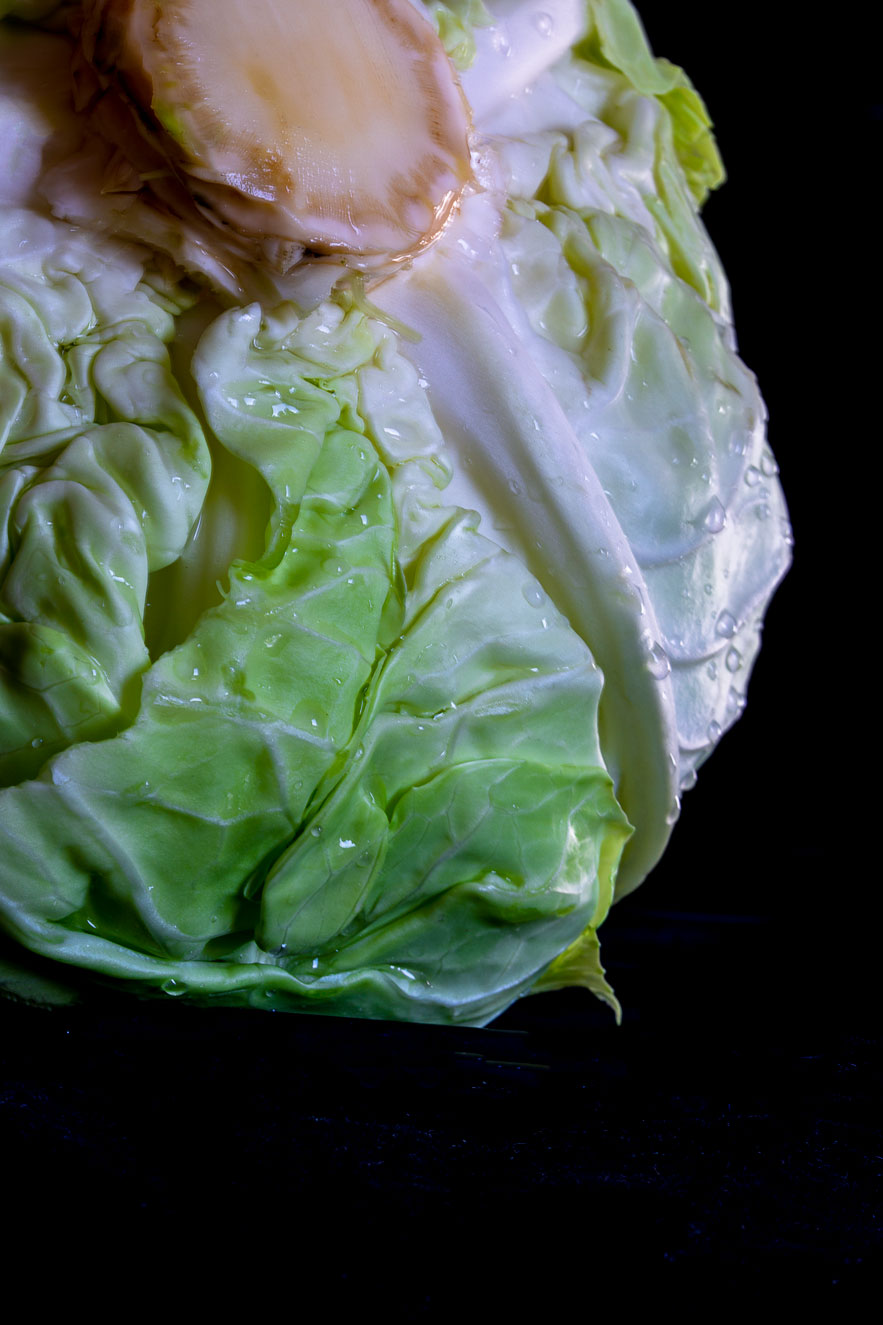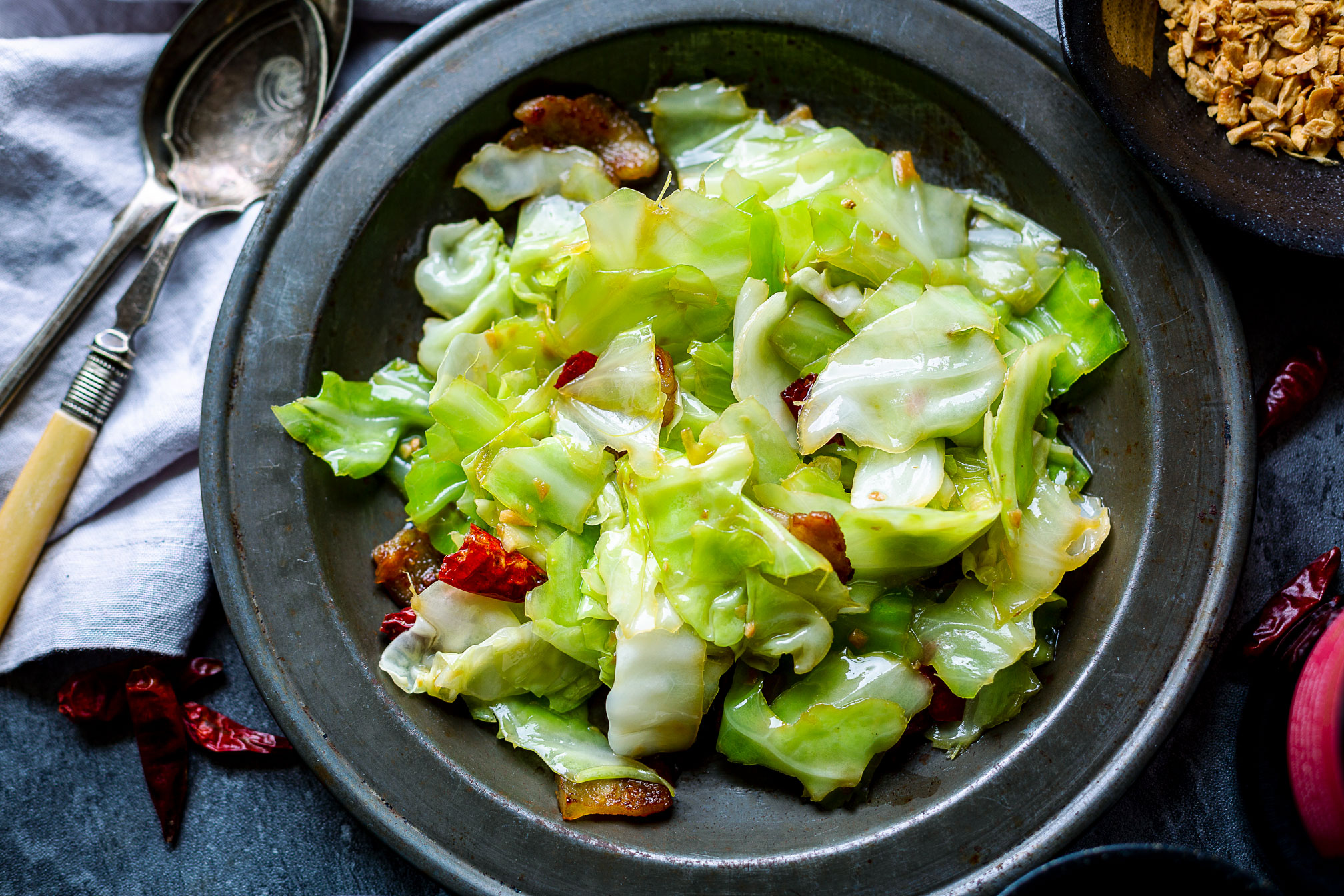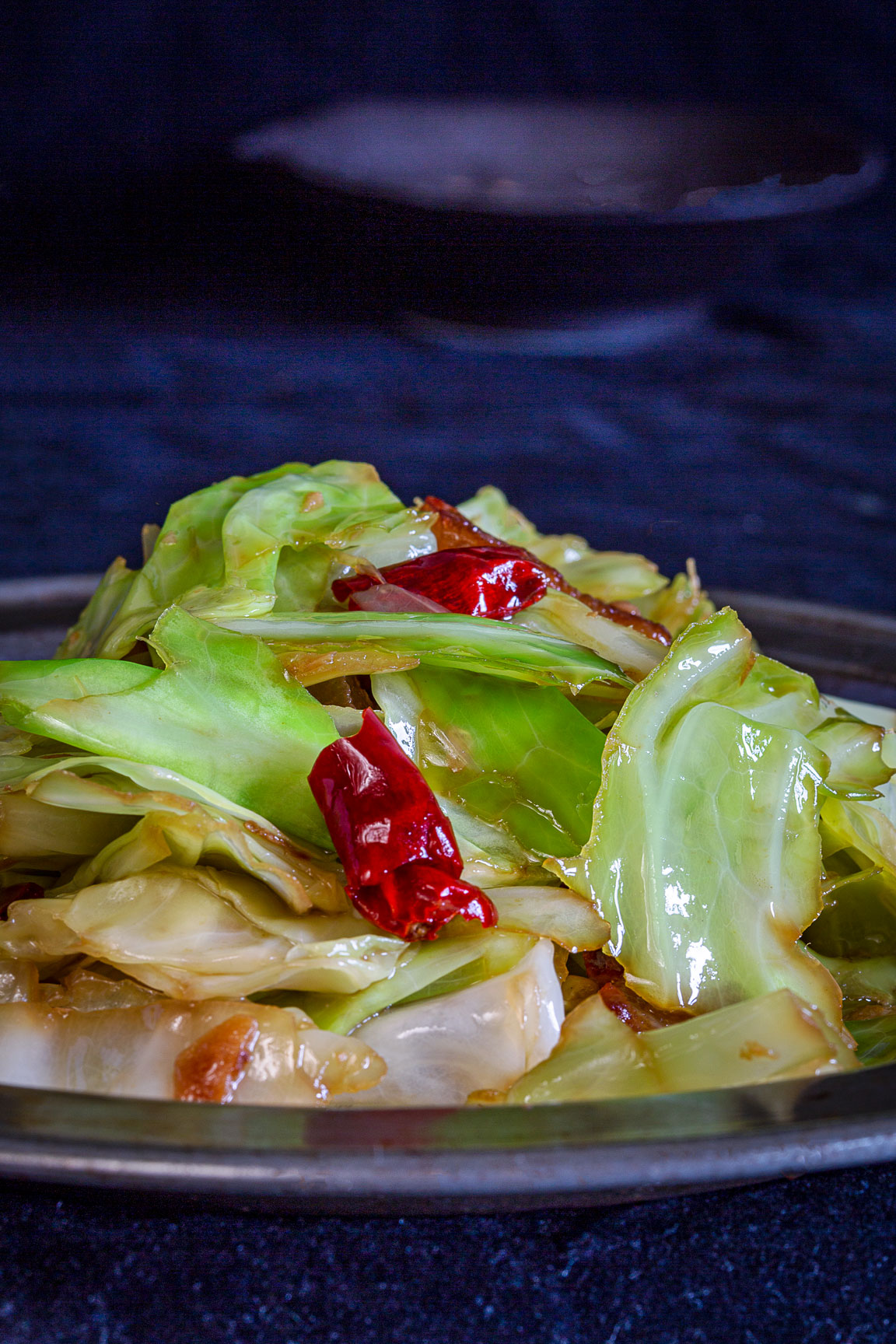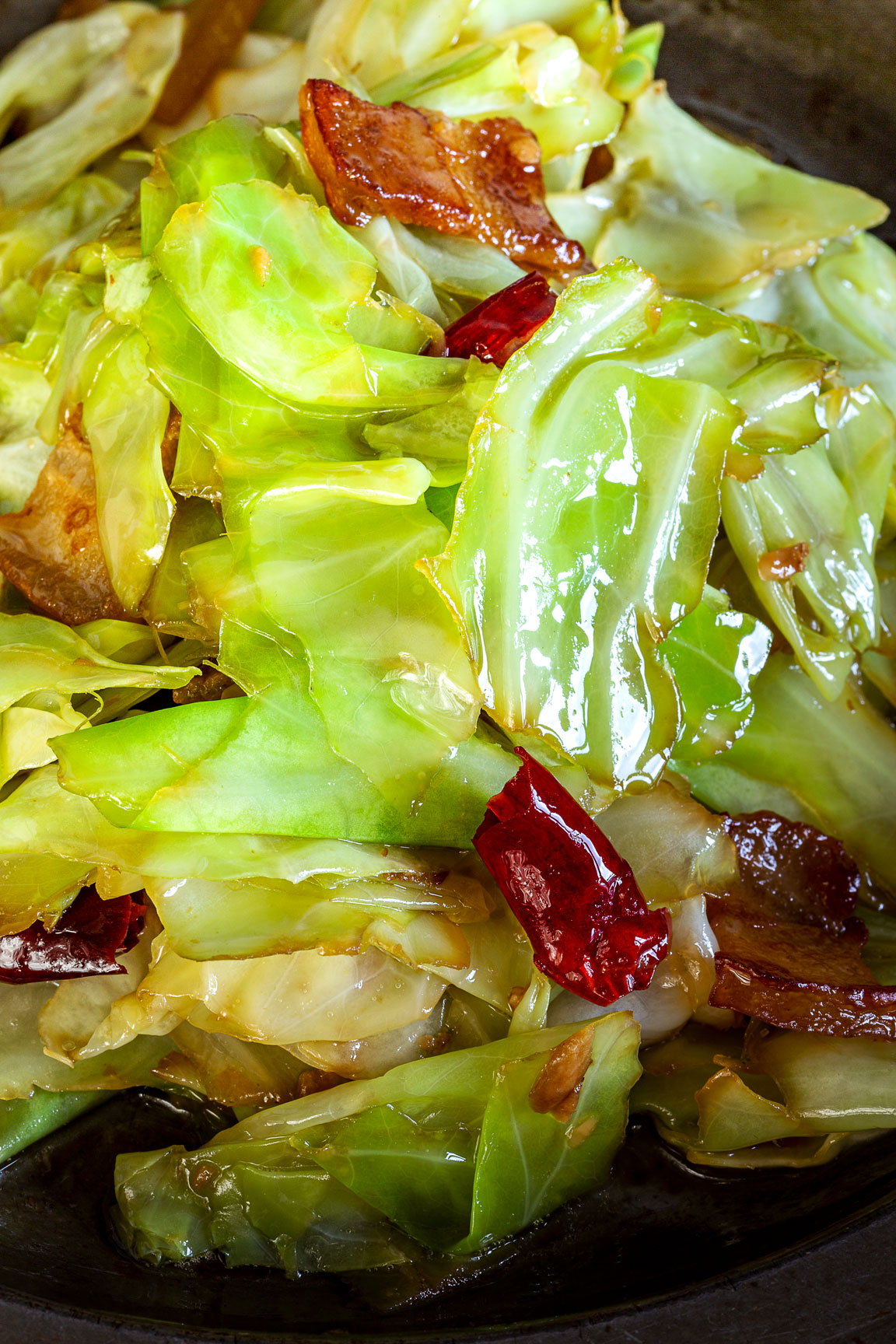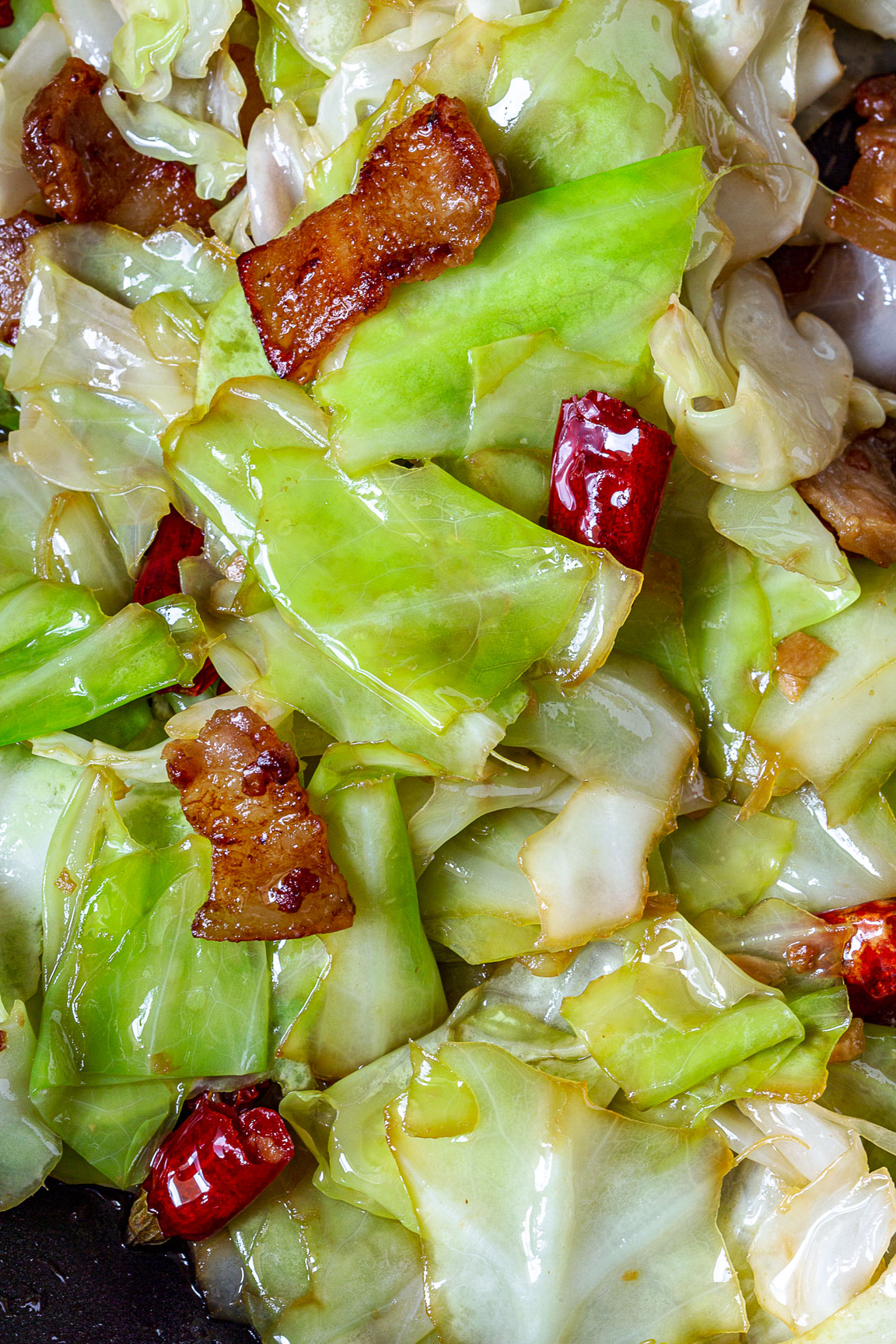 Stir-frying is a fast way to cook healthy and delicious dishes. The high temperature sears food quickly and preserves the natural juices. The vegetables stay bright and crisp, meat browned and succulent.
This stir fried cabbage dish with simple ingredients only takes a few minutes to make. It brings out the buttery rich and slightly sweet flavor from humble cabbage and turns it into an irresistible treat.
Cabbage is hand torn to keep the tender leaves only and discard the hard tough parts. The rough torn pieces of cabbage offer textural variety, and soak up more sauce and flavory.
The cabbage should be completely drained before frying. Water on the leaves can turn the quick frying process into steaming.
Only cook a small amount to avoid overcrowding the pan.
Get all your ingredients ready before heating the oil. Stir-frying proceeds is at a fast pace. The total cooking time may only be five minutes or less.

Super Easy Cabbage Stir Fry

This stir fried cabbage dish brings out the buttery rich and slightly sweet flavour from humble cabbage and turns it into an irresistible treat.

Print Pin Rate

Ingredients

3

tbsp

oil

1/2

cup

pork belly

(thinly sliced)

3

dried red chillies

(roughly chopped)

5

large leaves of cabbage

(hand-shredded into bite sized pieces, washed, and thoroughly dried)

1

tbsp

soy sauce

1/3

teaspoon

sugar

1

teaspoon

fried garlic

Instructions

Add the oil (2 tablespoon) and pork belly to a fry pan over high heat, sear the meat until slightly caramelised. Add Chilies and fried garlic and stir-fry for another 20 seconds.

Add the cabbage in, make a quick stir fry then add soy sauce and sugar and cook until the cabbage just starting to wilt, about 2 minutes.

Stir in one tablespoon of oil and Serve hot.

Nutrition Information:

Calories:

1075

kcal

Carbohydrates:

134

g

Protein:

36

g

Fat:

55

g

Saturated Fat:

14

g

Polyunsaturated Fat:

10

g

Monounsaturated Fat:

28

g

Trans Fat:

0.1

g

Cholesterol:

43

mg

Sodium:

932

mg

Potassium:

4019

mg

Fiber:

57

g

Sugar:

74

g

Vitamin A:

2429

IU

Vitamin C:

831

mg

Calcium:

914

mg

Iron:

11

mg