The Bok Choy Rice is a traditional one-pot meal from Shanghai that's made with rice, salted pork belly, and bok choy. It's a simple and popular dish enjoyed by many families in Shanghai.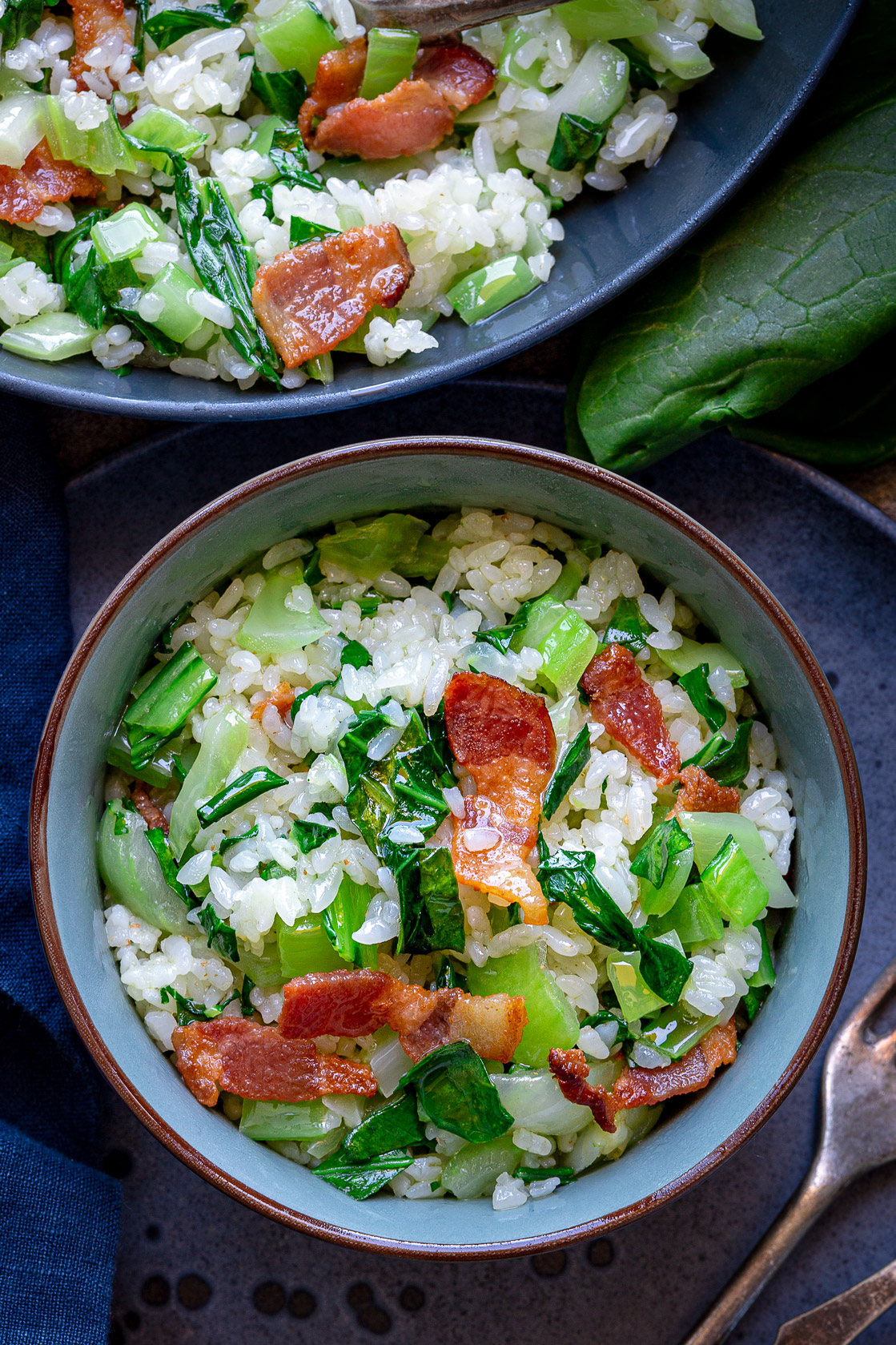 About This Recipe:
This recipe is a traditional Shanghai dish with a twist.
I feature many Shanghai recipes on my blog because I lived in Shanghai for several years, especially during my early childhood. These foods are the ultimate comfort food and bring back lots of good memories.
However, living overseas means I can't always find the right ingredients and have to find close substitutes to recreate them in my kitchen. This recipe is one of those attempts.
In this recipe, I opt for smoked shoulder bacon as a replacement for salted pork belly, and it fits perfectly.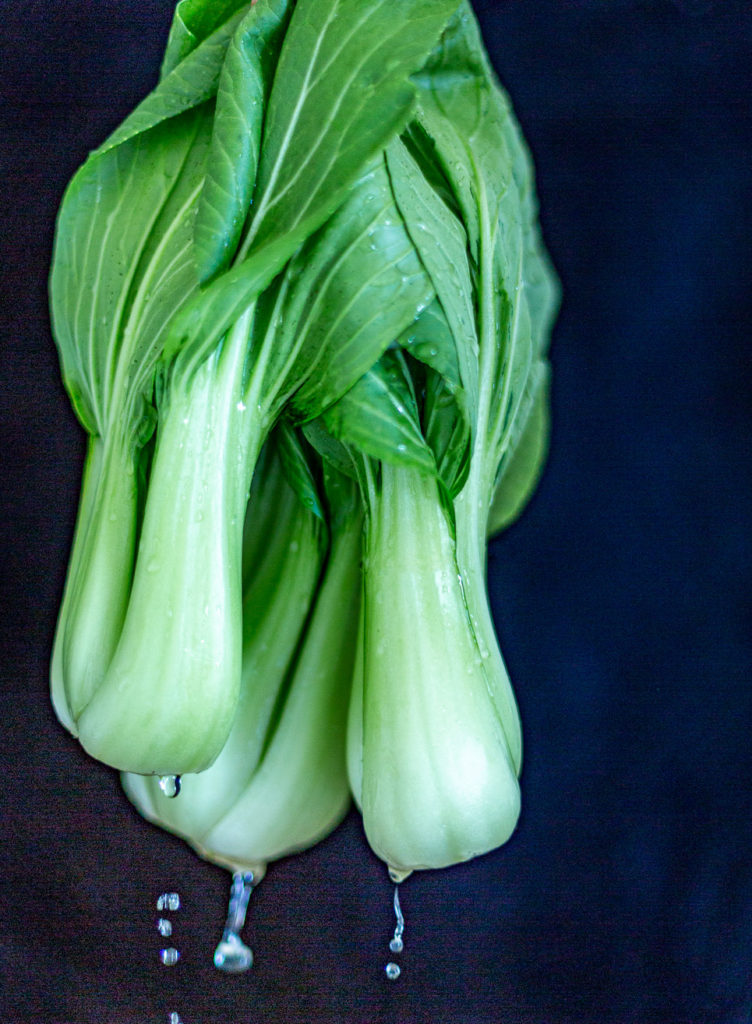 Ingredients For Shanghai Bokchoy Fried Rice:
Rice: Short-grain rice has a stickier texture and a greater ability to soak up flavors compared to long-grain rice. For this recipe, I've chosen to use short-grain rice.
Bacon: The fatty part of shoulder bacon adds a really nice flavor to this dish. There are many types of bacon, so if you're trying to eat less fat, you can choose lean bacon. Also, remember that different bacon can have different levels of saltiness, so use it carefully to avoid making the dish too salty.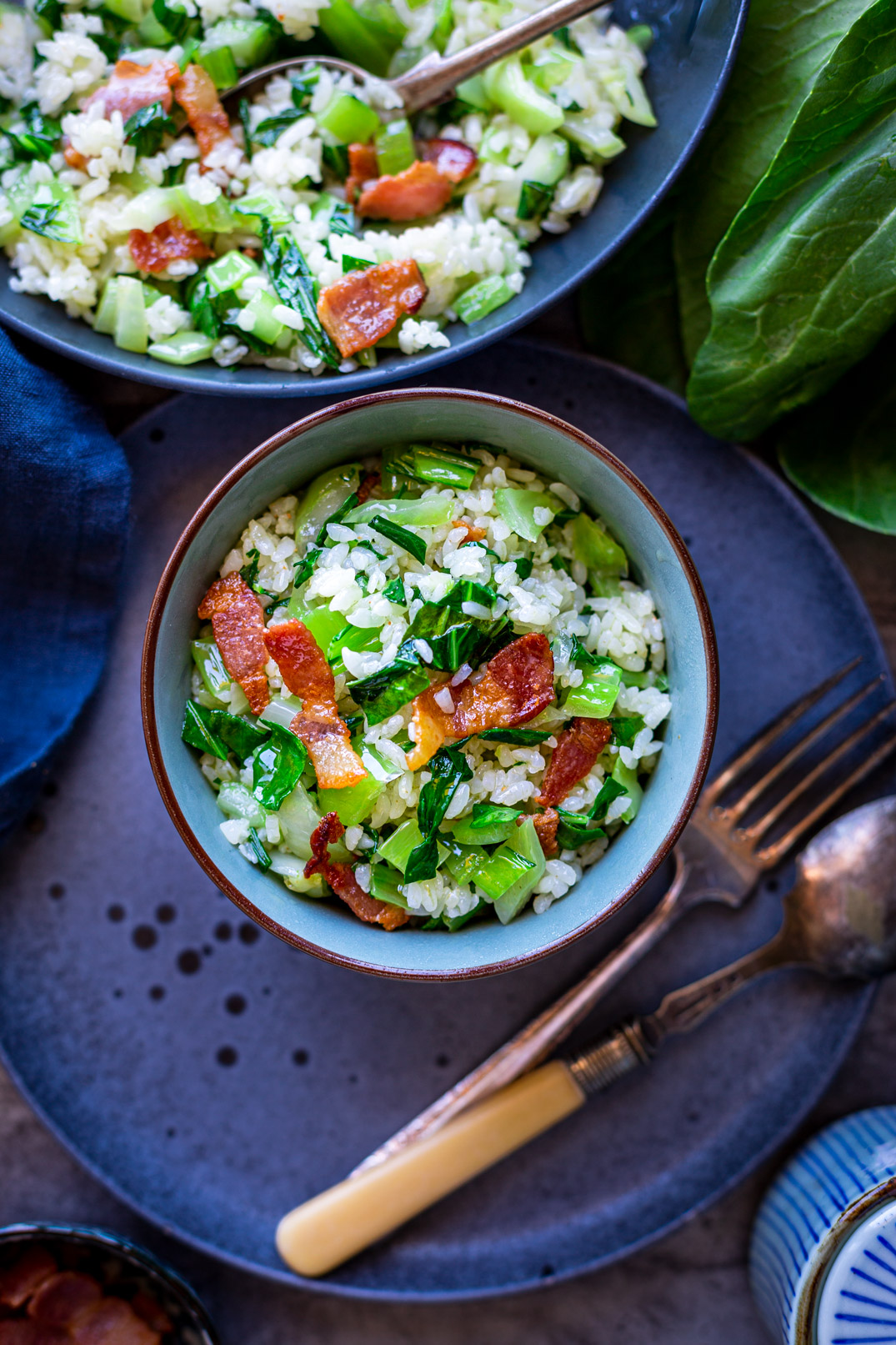 Recipe Notes:
Rice and Water Ratio: When cooking in a rice cooker, the ratio of rice to water is 1:1.2.
Cooking Fat Substitution: The original recipe uses lard for cooking, but I've swapped it with fine olive oil. If you're seeking that authentic Shanghai flavor, you can still use lard.
Bacon Salt Levels: Different types of bacon can have varying levels of saltiness. Taste the cooked bacon for saltiness before seasoning, and adjust as needed.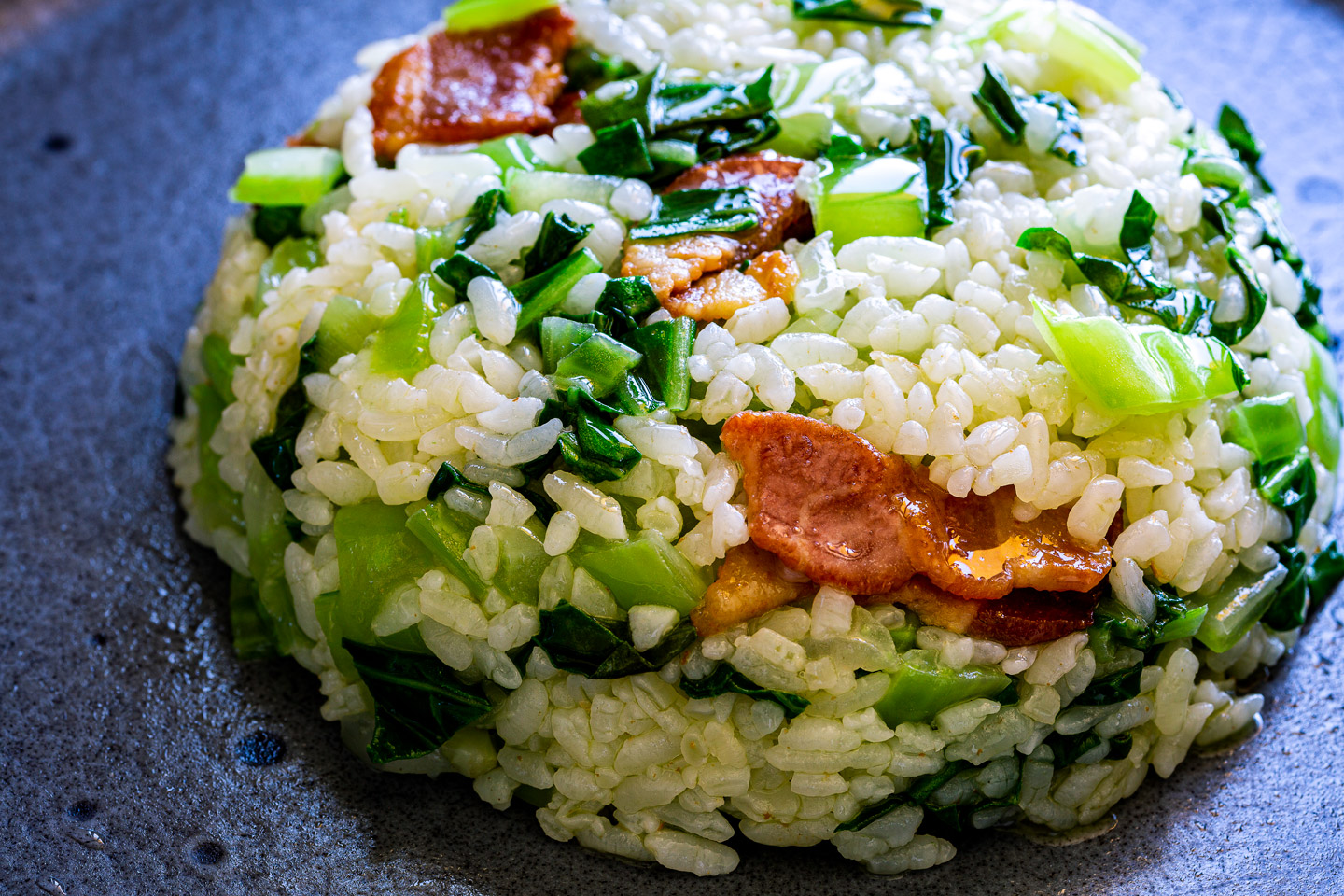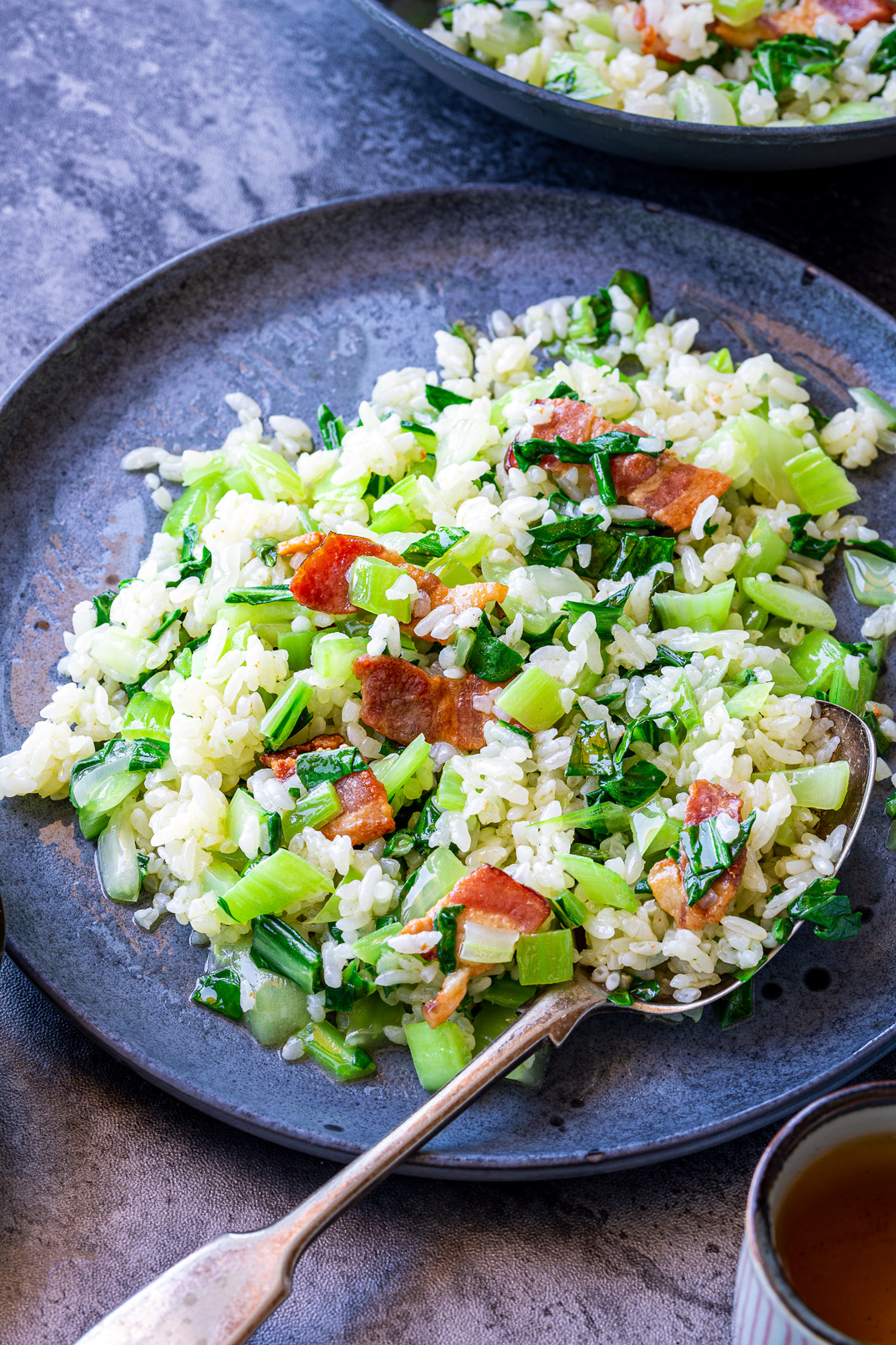 FAQs:
Q: Can I use a regular pot instead of a rice cooker?
A: Yes, you can. Just ensure that the rice is cooked slightly drier than usual to prevent it from becoming mushy.
Q: Can I use a different type of cooking oil instead of olive oil?
A: Yes, you can use other cooking oils such as vegetable oil, canola oil, or coconut oil if you prefer.
Q: Can I make a larger batch of this dish and store it for later?
A: Certainly, you can batch cook and freeze in smaller portions, reheating them in the microwave. However, be aware that reheated bok choy may appear and taste different from the freshly cooked version.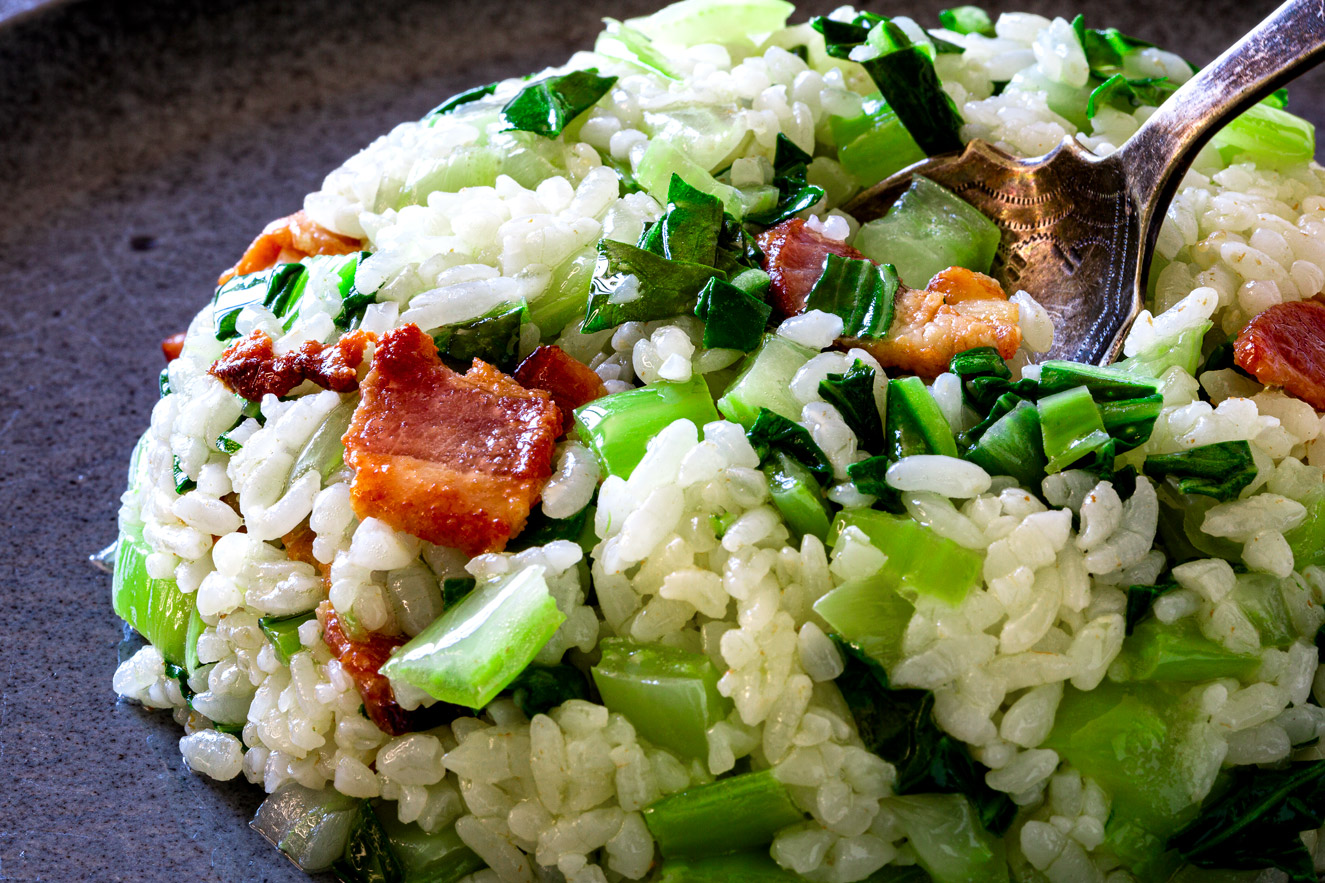 Experience the taste of Shanghai home cooking right in your own kitchen.
Give this simple recipe a go and enjoy the flavors!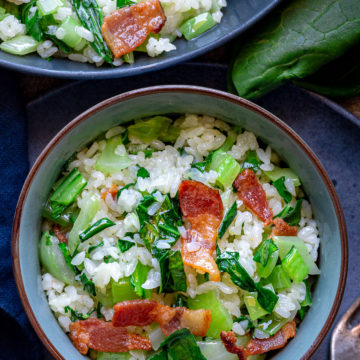 Simple Bok Choy Rice
The bok choy rice is nicely infused with the smoky bacon flavour and threaded with the bright green bok choy. All you need for an easy, healthy and filling meal.
Print
Pin
Rate
Ingredients
1

cup

rice

1.2

cup

water

250

g

bok choy

(finely chopped, separate the white parts and the leafy green parts)

100

g

smoked shoulder bacon

(cut into 1cm pieces)

1

pinch

salt

1/4

cup

olive oil
Instructions
Add rice and water to the rice cooker until it is cooked.

Heat a non-stick frying pan over medium heat. Add oil and bacon and cook until the bacon is lightly golden. Set aside the bacon and leave the oil in the frying pan.

Add the white parts of bok choy and cook until they are tender. Stir in the cooked rice, bacon and the green parts of bok choy, season with salt and cook until the bok choy is cooked. (Bonus point: If you press the rice into the bottom of the pan to let it develop a bit of a crispy crust, yum…)
Nutrition Information:
Calories:
801
kcal
Carbohydrates:
77
g
Protein:
15
g
Fat:
48
g
Saturated Fat:
11
g
Polyunsaturated Fat:
6
g
Monounsaturated Fat:
29
g
Trans Fat:
0.1
g
Cholesterol:
33
mg
Sodium:
444
mg
Potassium:
521
mg
Fiber:
2
g
Sugar:
2
g
Vitamin A:
5604
IU
Vitamin C:
56
mg
Calcium:
164
mg
Iron:
2
mg
You might also like: